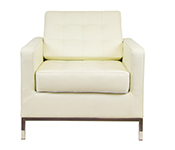 Florence Knoll Biography
Florence Knoll is an American furniture designer and interior decorator. She is best known for her work at the helm of Knoll Associates, a design company she founded along with her husband, Hans. Knoll had an especially strong influence on the décor and structure of the modern American office and many of her concepts can be seen in offices throughout the world.
Early career and studies
Knoll was born in Michigan in 1917 and moved to Illinois to study at the acclaimed Cranbrook Academy of Art. There, she learned under Eliel Saarinen, father of fellow designer Eero Saarinen. After completing her studies at Cranbrook, Knoll studied architecture at the Armour Institute of Technology and went on to learn from some of the leading designers of the time, including the founders of the Bauhaus.
Partnership with Hans Knoll
Florence met designer Hans Knoll in 1943 and convinced him to begin offering interior design to the customers of his furniture company. She proposed that he partner with some of the country's leading designers and architects to offer modern décor and furniture that would appeal to the masses. After Florence and Hans married in 1946, the two formed Knoll Associates, a furniture and design firm that has been responsible for some of the most iconic pieces of the 20th century. Many notable works from Charles and Ray Eames, Isamu Noguchi, and Eero Saarinen, such as the Eames Office Chair and the Tulip chair, were created for Knoll Associates.
Taking over at Knoll Associates
When Hans died suddenly in 1955, Florence became the head of Knoll Associates - a position she held until 1960. Under her direction, the company both created and distributed exceptional products. Knoll herself designed some of these pieces, but preferred that her furniture be displayed within the surroundings of her overall concept. To that end, she created the Knoll Planning Unit, a special section inside the company that aimed to provide 'total design' for homes and offices. Many of Knoll's furniture designs, such as the 2544 Credenza, were only displayed as a part of a complete room scheme so that clients would fully appreciate the concept behind her work. She resigned as President and became Director of Design at Knoll in 1960 before retiring from business five years later.
Impact on modern office design
Florence Knoll's influence on the corporate workspace is still in evidence today. Her overall vision for the office was to remove heavy, wooden furniture pieces and replace them with clean, metal desks and chairs wherever possible. She also enjoyed pairing black and white against bright colors to give the offices a modern look. It was Knoll who created the open workspace, or bullpen, plan for offices. She also rearranged the typical furniture arrangement in the office, choosing to move the office desk to a parallel position with the wall, instead of the diagonal setting that had been preferred in the past.
Check out our Florence Knoll collection: