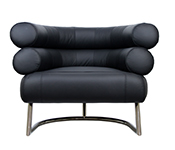 Eileen Gray Biography
Eileen Gray was one of the most understated designers of the early 20th century. Reclusive and publicity averse, Gray led an extremely private life, but managed to create some of the most popular designs of the day. She was unique among her contemporaries because she was self-taught and unaffiliated with many of the famous mentors of the time.
Background
Gray was born in Ireland in 1878. As a child, she lived in luxury, being the youngest of five children in a wealthy family. As a young adult, she attended the Slade School of Art to study painting, but she had not yet chosen an artistic style when she happened upon a lacquer workshop in London. Gray was so taken by the art of lacquer painting that she asked the owner to teach her how to do it herself, becoming a full-time lacquer artist.
Furniture Design
As Gray became more familiar with furniture design, she found inspiration in the work of the famous artist Le Corbusier. In 1917, Gray was asked to decorate an apartment in Paris and she furnished it from top to bottom in lacquer. Her noted Block Screen was one of the original works displayed in the apartment. During the project, Gray also designed several indoor lamps, which became some of her first furniture designs. The crowning touch of the apartment was the Pirogue sofa, Gray's first real splash in the design world. The sofa, which was shaped like a canoe, served as a daybed and sported streamlined curves that proudly proclaimed Gray's interest in modernism.
After completing the Paris apartment, Gray, along with the artist Jean Badovici, began work on her own apartment, the E1027 building. Designed from floor to ceiling by Gray herself, the apartment was filled with Gray's own designs, including tables, chairs, and beds. As a favor to her sister, who wanted to eat food in bed without dropping crumbs, Gray designed the E1027 table. What set the E1027 table apart was its construction out of curved metal tubes. It consisted of two ovals - one on the top and one on the bottom, and a straight metal tube which connected the two. The table's short top made it an ideal choice for sliding right under a bed frame, or any other piece of furniture.
Another of Gray's designs that adorned the E1027 house was the Bibendium chair. With a whimsically designed seat made of two cushioned arcs resting atop a thick seat and a metal frame, the chair was both modern and plush.
Later, Gray decided to design a smaller home, Tempe à Pailla, which she intended to grow along with her. The house was built to mimic the look of a ship, sporting long, thin spaces. To save room in her new, smaller quarters, Gray created a few more original furniture pieces that maximized the space in the home. Her S Chair folded into a smaller piece for storage, and her unique chest of drawers could be used from either side.
Check out our collection

Eileen Gray is known for classic modern furniture pieces: