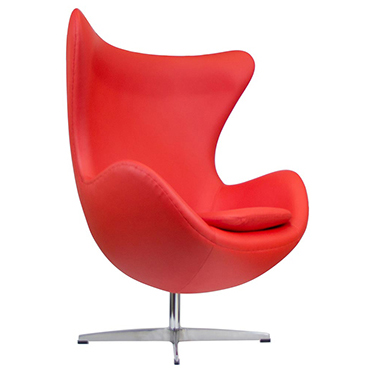 The egg chairs were inspired by the Danish designer Arne Jacobsen in 1958. The sensuous and organic modern shape of the egg chair makes for a timeless chair that captures both comfort and functionality.
Egg Chair Highlights:
Inspired by the original design of Arne Jacobsen in 1958
A timeless classic chair known for encompassing cozy feeling.
Reliable construction known for functionality.
Simple, classic lines that make a visual statement while keeping the comfort.
History of the Egg Chair:
Designer: Arne Jacobsen
Country: Denmark
Year: 1958
History: The first Egg Chair was built for the Radisson SAS hotel in Denmark.


Trends the Egg Chair has inspired:
The design for the original egg chair came from Arne Jacobsen, who was known for using state-of-the-art materials, materials that were easy to access and build with. He named his furniture after the forms they represented – ant, egg, cigar. The egg chair is known for its comfort and functionality. When you sit in this chair you feel protected and encompassed comfort without sacrificing the gorgeous look and feel of the chair.

1. Other "Egg-Shaped" Chairs:
The egg chair has a body fitting design that has inspired many designers.

Hanging Egg Chair
The hanging wicker egg chair was designed in 1957, by Nana Ditzel. This chair has a similar shame to the egg chairs but hangs, often on the patio. They offer the same comforting support.

Ball Chair
The ball chair looks a lot like the egg chair, as it came out of the similar era, but actually was designed much earlier. The ball chair has a pod-like look to it, almost a space age look.

2. Featured in:
It has been featured in many TV shows and Movies. In 2011 a redesign of the San Francisco International airport, Terminal 2, brought bright red leather Egg Chairs to the lounge alongside sculptures and paintings by local artists. The egg chair has also been used to promote the 6th book in the Hitchhikers Guide to the Galaxy trilogy book tour– with 42 individually numbered chairs made in optical white leather with natural seat cushions .
The movie, Men in Black, featured Will Smith
What makes a good reproduction of the Egg Chair?
In 2011 a wave of egg chairs hit the market that are close replicas to the original Arne Jacobsen's Egg Chair.
What to look for:
Size: The replicas are slightly taller.
Original egg chair: 43" high x 34" wide x 31" deep
Replica egg chair: 45" high

Stitching: The original egg chairs have taught smooth seams. Replicas have a tuck-and-roll seams that appear less obvious stitching, but can look a little puckered.

Price: The original Egg Chair made by Fritz Hansen starts at $6,0000. Good reproductions are between $600 - $1300.