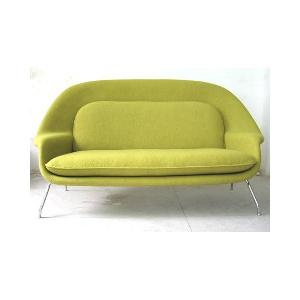 Eero Saarinen Biography
Eero Saarinen's career was relatively short-lived, as he died at the age of 51 from a brain tumor, but during his lifespan he managed to impact the world of architectural design as much as any notable artist of his time. Saarinen subscribed to the 'high modernism' philosophy and a strong bent towards the future is evident in nearly all of his work. Saarinen, who famously adapted his designs to meet the customer's wishes, managed to create unique works for some of the largest corporations of the time, including General Motors, Yale, and IBM.
Early studies
Saarinen got started in the architectural field by default. His father, Eliel, was a famous designer in his own right in his native Finland before immigrating to the United States when Eero was a teenager. After arriving in America, Eliel established and designed the Cranbrook Academy of Art, which would become a leading art institution for budding architects. Eero collaborated with his father on the Academy's design and construction, and later attended the school himself as a student.
After completing the program at Cranbrook, Saarinen went on to study sculpture in Paris in 1929, before returning to the US to attend the Architecture program at Yale during the early 1930s. Following his time in New Haven, Eero took a teaching position at Cranbrook.
Furniture designs
Saarinen is best known for his iconic constructions, including the Gateway Arch in St Louis, the TWA Flight Center at John F Kennedy International Airport, and the Dulles Washington Airport Terminal. The designer also made his mark, however, in furniture design, creating timeless pieces that became a part of popular culture.
One of Saarinen's first furniture works arose from his partnership with the Illinois designer Charles Eames, a fellow Cranbrook alum. The two collaborated on the famous Eames molded plywood chairs, winning several international design competitions for their entries.
After branching out on his own, Saarinen invented several of his own eye-catching pieces, including the Womb chair – an enveloping seat covered with bright fabric and topped with a cushion. The Womb chair remains in production to this day. An identifying mark of Saarinen's furniture pieces was the curved shape that outlined the work. For example, both the Pedestal table and the Executive chair feature curved outlines, giving the pieces a streamlined, futuristic feel.
Saarinen's most famous furniture design is, arguably, the Tulip chair. Designed to be as fashion forward as possible at the time, the chair sprouts from a curved 'stem' into a flower-shaped seat with no arms. One of the Tulip chair's most striking features was its color blocking. The entire body of the chair was white, but the lone cushion was a bright red. The chair gained international recognition after being used for the sci-fi television series Star Trek. Saarinen also designed an oblong, oval-shaped Tulip table that similarly sprouted from a single 'stem'.
Eero Saarinen Furniture