Description
Kubus Style Arm Chair - A Josef Hoffman Kubus Chair Reproduction
Count your blessings on this mathematically-inspired chair that offers many pockets of perfection. The Hoffmann Kubus Arm Chair is both flawless and functional: its cushioned cubes, upholstered in your choice of leather grades, are precision stitched for both a faultless finish and world-class comfort. With the Kubus Chair, style, comfort and quality all add up to the perfect investment.


Available in multiple leather grades including Synthetic, Premium Italian, and Aniline Leather.

Variety of colors available

Hardwood frame construction

High quality, comfortable foam

Covering made of individually stitched and piped leather squares

Solid wood leg with polished steel pieces

Kubus Chair Replica
TYPES OF LEATHER:Premium Italian Leather:
Italian leather is often considered to be the best kind of leather in the world. True Italian leather is a type of full-grain that has been hand-selected and hand-crafted. It is a superior quality hide greatly coveted by top furniture manufacturers. Because most Italian leather is of such high quality, it can stay in beautiful condition much longer than other types of leather.
Aniline Leather:
The most attractive and natural leathers which are prized for their soft natural feel. These are leathers which have been aniline dyed in a vat process with no color coating added to the surface. These transparent dyes leave the actual surface grain and such natural markings as wrinkles, bites and scars visible. Because they don't have a top coating the leather breathes more easily and is cooler to sit on. They are the most expensive leathers to produce because only the very best selection of hides can be used to produce full aniline leathers.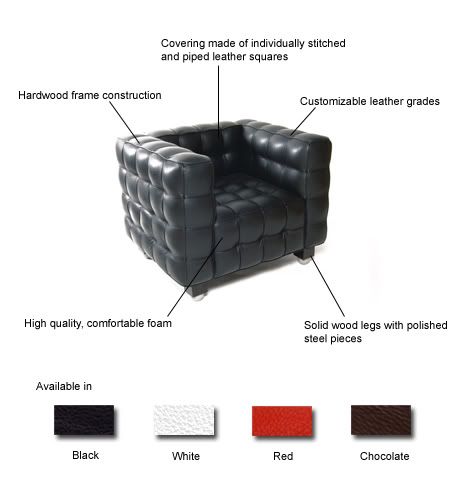 Buy Kubus Style Arm Chair Online